Yesterday was Grandparents' Day, so today I'm posting my favorite dish that my grandmother made. It combines two of the loves of my life: cheese and vegetables.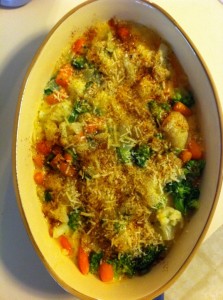 What could be better?
Kiss Kiss' Au Gratin Vegetables
1 pound mixed cauliflower, broccoli,
and carrots
1/3 cup finely chopped onion
3 tablespoons butter
2 tablespoons all-purpose flour
½ cup finely shredded sharp cheddar cheese
(2 ounces)
Salt and pepper
¼ cup grated Parmesan
Hot Hungarian or sweet paprika
Cut cauliflower and broccoli into florets; chop carrots into "coins," or halve if using baby carrots.
Cook vegetables, covered, in a small amount of boiling salted water for about 5 minutes or until crisp-tender. Drain, reserving the cooking liquid. Add enough water to reserved liquid to make one cup. Keep vegetables warm.
In a small saucepan cook onion in the butter until tender, but not brown. Stir in flour. Add reserved cooking liquid all at once. Cook and stir until thickened and bubbly. Stir in cheddar; cook 1-2 minutes more or until cheese melts. Season with salt and pepper.
Pour some of the cheese sauce into a greased 10x6x2 inch-baking pan. Top with cooked vegetables and put remaining sauce over. Sprinkle with the Parmesan and paprika.
Broil 4 inches from heat for about 5 minutes or until top is lightly browned. Serve at once.
Makes 4-6 servings.
---
One Response to "A Recipe for Grandparents' Day"