TLR 054: steve gunn —boerum palace LP + download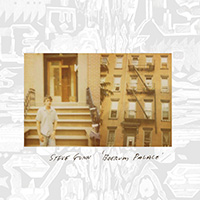 LP initially released november 17, 2009. 2015 pressing from an edition of 457 copies on 140 gram process blue vinyl and housed within a traditional direct to board printed LP sleeve. $15 postpaid with download coupon. the original pressing of 823 copies was on 180 gram vinyl and housed within an old style tip on sleeve. the original pressing is out of print. also out of print are the 2013 pressing (460 copies on 140 gram purple vinyl) and the 2014 pressing (516 copies on 140 gram purple & white swirled vinyl).
available as a digital download or for streaming from bandcamp.
steve gunn's prodigous talent for fusing traditional american song structures with a raga influence is almost criminally unheralded. gunn's songcraft is so strong and his playing style so effortlessly beautiful that folks should be shouting his name from every tall building and mountaintop. it is with such high esteem for the man's work that three lobed recordings is humbled by the association and thrilled to announce the release of boerum palace by steve gunn. without any doubt, boerum palace is a staggering accomplishment and is certainly gunn's most assured and confident work to date.
native philadelphian gunn has been a stalwart of the american experimental scene for closing in on a decade. he is known by many for his contributions as one half of the core duo behind GHQ (with marcia bassett) as well as for his many other affiliations with underground luminaries such as tom carter, the magik markers and marc orleans. gunn has slowly cultivated his own solo work alongside his other obligations and involvements. after a few early CDR and cassette releases under the moniker "moongang," gunn gravitated towards performing and releasing music in his own name, culminating in the exceptional sundowner (digitalis industries, 2008). sundowner was, to that point, the most potent burst of gunn's songwriting abilities and remarkable playing abilities. following sundowner, gunn bunkered down to further hone his songwriting and boerum palace represents the overwhelming products of that effort.
boerum palace represents steve gunn's first full-length release on vinyl and second album. the album starts off with a headlong rush into the hypnotic "mr. franklin". gunn's fluid playing style, especially as portrayed withing this track, provides ample space for the development of infectious musical themes. the track ends in a dextrous duel between gunn's guitar and guest marc orleans' (of d. charles speer & the helix, sunburned hand of the man) vicious pedal steel. the album mixes gunn's long-form blues / raga / psych explorations alongside briefer cuts that equally display his songcraft. these tracks, such as "variation ii" and "jadin's dream," demonstrate that gunn is equally confident with shorter or longer compositions. gunn's voice is joined by an ethereal turn from the vanishing voice's heidi diehl on the album's central and haunting "house of knowledge." the track opens with a building central guitar theme. this theme allows gunn to layer on further guitar explorations. the tone set by these musical themes builds into the duo's vocal delivery that delivers volumes despite being uttered in gentle tones. other highlights include "cryin' eyes," an inspired reworking of j.j. cale's "crying eyes" featuring backing instrumentation from marc orleans, and the richly textured album finale "mustapha's exit."
boerum palace was initially pressed on 180g RTI vinyl and housed within an old-style stoughton sleeve bearing new original artwork from mike pare and some of gunn's photography. this initial pressing of boerum palace was from a one-time pressing of 823 copies. copies of the initial pressing ordered by november 13, 2009 had the option of being accompanied by a glass-mastered CD titled too early for the hammer (tlr-074) presenting new, scarce and previously unheard gunn material that is not available separately. the june 2013 pressing of boerum palace was on 140 gram purple vinyl and was from an edition of 460 copies. it was housed in artwork identical to the original pressing but printed on a standard direct to board cover. the november 2014 pressing of boerum palace was on 140 gram purple vinyl and was from an edition of 516 copies. it was housed in artwork identical to the original pressing but printed on a standard direct to board cover. the march 2015 pressing of boerum palace is on 140 gram process blue vinyl and is from an edition of 457 copies. it is housed in artwork identical to the original pressing but printed on a standard direct to board cover. copies of the 2015 process blue pressing pressing cost $15 postpaid in the US, $26 to canada and $33 postpaid to all other addresses. the album will be accompanied by a download coupon.
to order a copy of the process blue vinyl version boerum palace LP via paypal, toggle to your preferred shipping location:

if you are a fan of solo guitar work and would like to combine this gunn LP with some or all of jack rose's the black dirt sessions, danny paul grody's between two worlds and chuck johnson's crows in the basilica just toggle to your preferred combination and shipping location (include which specific records you want in addition to the gunn LP in the "info" field of your payment):

select preferred combo and shipping address
iä! shub-niggurath!